New Art Commissioned and Enabled by DD Day
DD Day has so far commissioned North West England based artists working in the visual and sound arts to produce and perform creative responses to the Delia Derbyshire Archive.

This apparently quite innovative approach of bringing together archives/heritage and the arts, aims to produce exciting new works of high quality that is informed by the heritage of electronic music whilst presenting a platform for artists past, present and future.

A new generation of electronic music composers and audio engineers are also being enabled and encouraged through our education programme in primary schools – please visit our Education page for more info.
New DD Day Artist Commissions
The following new works premiered on DD Day 2017, Saturday 10th June at Band on the Wall:
New interdisciplinary artistic collaboration by composer

Manuella Blackburn (electronic music)

and painter/visual artist

Tracey Zengeni (live painting).
Manuella talks about this commission opportunity to create new work inspired by the Delia Derbyshire Archive
"I'm especially enthused about collaborating with visual artist, Tracey Zengeni who will be creating a painting live in response to my sonic creation. Creating a response to Delia's archive is a completely new experience for me as a composer and an entirely new way of working. Our collaboration aims to use motion sensing for tracking the visual paintwork in performance and some antiphonal (call and response) interactions based upon short sound bursts and corresponding colour."   Click here to read the blog post about their research visit to Delia Derbyshire archive at John Rylands Library.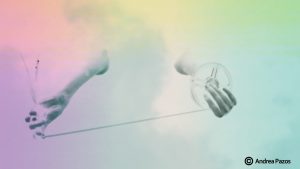 New audio collage of archive material compiled by Dr David Butler (lead researcher for Delia Derbyshire archive) with accompanying film/video work by artist Andrea Pazos.
Previous DD day Artist Commissions
DD Day 2016
A new archive sharing audio collage by Dr David Butler with a handmade film response "For Delia" by artist

Mary Stark.

A new music commission "The Waking Sleep" by The Architects of Rosslyn

–

Mandy Wigby

 & 

Producer/Composer feat. Howard Jacobs Composer/Musician – performing a live soundtrack to a collage of films by

artist and 'movician

'

 Di Mainstone.
DD Day 2014
A new electro-acoustic music piece by composer, musician and instrument maker

Daniel Weaver

called "Complex Future". Daniel was particularly enchanted by Delia's Inventions for Radio series of pieces,  so his piece included spoken word, ambient soundscape and playing a clock chime and an old turntable with a bow.
New digital visual art work by artist and creative technologist

Andrea Pazos

.

 Andrea's work will accompany the music performances, thereby responding to both the archive and the performed pieces of music.
The Consequences of Falling by

Ailis Ni Riain

was performed by Brendan Ball and Geth Griffiths with a newly commissioned video by

Andrea Pazos.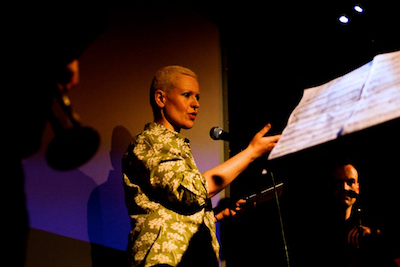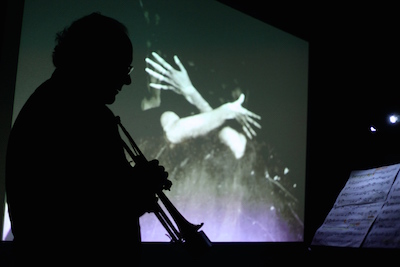 Caro C  – "Audient, my dear" (2013) Like Delia,

Caro C is an electronic music producer

, performer and sound engineer but operating at a time when the technology available is in stark contrast to the complex and time-consuming techniques used by Delia and her peers.  

Here is the studio version of "Audient, my dear" with visuals courtesy of

Kara Blake

(director of The Delian Mode) which they performed live as part of DD Day 2013 and proceeding England tour.
Ailís Ní Ríain  – "The Consequences of Falling" (2013) Performed by classical trumpet player

Brendan Ball

 and double-bassists

Geth Griffiths

.

Ailís Ní Ríain

 is a contemporary classical composer. 

Ailís' commission is dedicated to the memory of Delia Derbyshire and loosely based on Delia's 'Pot Au Feu' (1968).
Naomi Kashiwagi – "The Blues" (2013) The Blues (Gramophonic Remix) drew upon the musique concrète techniques that Delia Derbyshire used for example, where found sounds were recorded and manipulated. The found sounds that

artist Naomi Kashiwagi

used for her commission were extracted from a shellac 78rpm record, The Blues: Part 1, by Artie Shaw and His Band.