We are most pleased to report another major activity of our Heritage Lottery Fund supported "Delia Derbyshire 80th birthday electronic music heritage project" is completed and was a success. We were looking forward to designing and delivering a more in-depth 8 week learning programme integrating digital facsimiles from the DD Archive and producing a short film about Delia by kids, in their own words and sketches.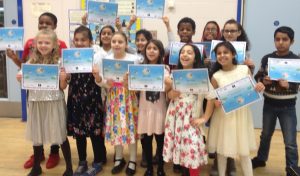 Lead facilitators Mandy Wigby and Caro C worked with 45 pupils from 2 primary schools in Manchester – Medlock Primary (Year 5, ages 8-9) and St Augustine's Primary (Year 6, ages 10-11). They learned about Delia's life using a wonderfully animated zine by Karen Harte and Colin Farrell. They made their own drawings of Delia and both boys and girls were shocked and dismayed to hear about Delia wanting to work at Decca Records in 1959 but was told the recording studio was no place for a woman. One pupil deduced Delia was inspiring because she did not give up and then went onto work for the BBC Radiophonic Workshop.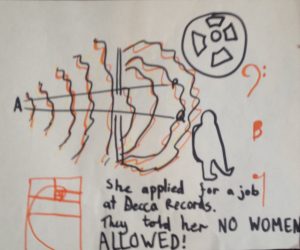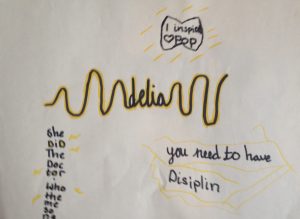 Sampling and looping
They then deconstructed Delia's realisation of the Dr Who theme and produced their own music inspired by Delia's working methods – using loops and sampling non-musical objects. Many were enchanted by the resonance of the coolicon lampshade which is cited as Delia's favourite instrument.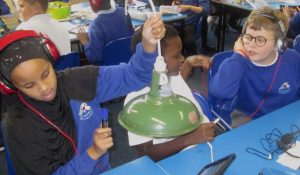 Synth action
Korg UK kindly loaned us 2 classic synths that have recently been re-produced – the Korg MS20 mini and the Arp Odyssey (now owned by Korg). The kids seemed to relish the opportunity for some hands on synth experience and confidently explored and recorded sounds.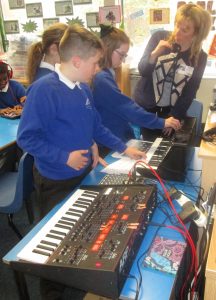 Making a film about Delia Derbyshire
The now budding electronic music composers then rose to the challenge to be the first kids to tell the world about Delia. Working with Belle Vue Productions, we wanted the film to the on the kids' terms and much as possible and in their voice. Hence the "Why Don't You?" style props and brilliant role play scenes to tell the story of Delia Derbyshire up to producing the Dr Who theme. This experience also meant that the pupils learned about film production too which we thought was most relevant to Delia's work and also the media production hub that is Manchester.
Belle Vue Productions commented:
"Basing the film on the children's creative re-telling of Delia Derbyshire's story allowed for a more engaging output. In asking groups to develop short pieces based on DD's history, this method also allowed the recipients of the educational programme to indicate which elements of this heritage were most important or relevant to them."
The Delia Derbyshire Archive
Once the film shoot was done and dusted, we delved deeper into Delia's music and some paper items in the Delia Derbyshire archive items which we re-produced as digital facsimiles. This seemed to further inspire and spark imaginations. The children seemed quite struck that these were Delia's own private notes and papers and they were able to read them. Some of the handwriting was not very legible and we discussed how Delia did not foresee that someone would be reading her private notes one day. Having looked at the drawings, sketches and possible graphic scores, the kids then made their own graphic scores while listening to a variety of Delia's music, some from the archive and some published works.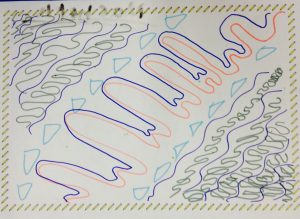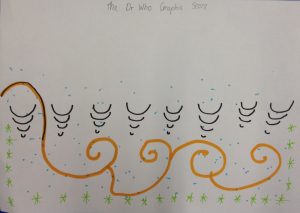 Evaluation
In our evaluation the participants overwhelmingly told us they enjoyed the experience, enjoyed learning about Delia and had grown in confidence and skills as budding electronic music composers and sound designers. One girl said she was making an album whose title will be "The Album to End All Albums". We are really pleased the impact of this learning programme has inspired and enabled the children to keep making music.
Feedback from the pupils:
"I really liked being creative"

"I have enjoyed trying new things"

"I really liked the film and everything we did"

"I have enjoyed creating and listening to the music we have done"

"I liked learning about Delia Derbyshire"

"It was fabulous. I really enjoyed it"

"Delia is cool and inspiring"
You can listen to the marvellous music the pupils created, inspired by the work and working methods of Delia Derbyshire:
And lastly a word from our Chair of Trustees:
"This work is so meaningful and also demonstrates DD Day is about outreach, encouraging access and giving children a wonderful opportunity." Dr David Butler, University of Manchester