BUY TICKETS FOR DD DAY 2017 at BAND on the WALL on SAT 10 JUNE
BUY TICKETS FOR DD DAY 2017 at BAND on the WALL on SAT 10 JUNE
This Heritage Lottery Fund supported event will honour the 80th anniversary of the pioneering woman behind the Dr Who theme. We will learn how they produced that iconic piece of electronic music, hear more from the fascinating Delia Derbyshire Archive and live music and live painting!
There are a couple of places left on our electronic music making workshop for kids aged 6+ (with an accompanying adult) so CLICK HERE if you want to take part in that. The workshop for adults is now sold out.
OUTLINE for DD Day 2017 evening event
Doors at 7pm for a 7.30pm start – we have lots of exciting cultural heritage entertainment to pack in for you!
BUY TICKETS FOR DD DAY 2017 at BAND on the WALL
DD ARCHIVE COLLAGE by David Butler (sound) & Andrea Pazos (video)
DELIA'S FRIENDS & BBC RADIOPHONIC LEGENDS DICK MILLS, BRIAN HODGSON & MARK AYRES special guests talk about making the Dr Who theme and working with Delia
DD DAY 2017 ARTIST COMMISSION PREMIERE: Manuella Blackburn (music) & Tracey Zengeni (live painting)
PERFORMANCE OF DD DAY 2016 COMMISSION "THE WAKING SLEEP": Music by Architects of Rosslyn (Mandy Wigby & Howard Jacobs) & films by Di Mainstone
BUY TICKETS FOR DD DAY 2017 at BAND on the WALL
Plus, do bring any extra cash you can as we will have a special DELIA-N MARKET with new DD Day products to help fundraise for our work (click on shop to find out more), Karen Harte who has produced a Delia zine and Sean Bright who makes the popular Delia card model. We look forward to seeing you there!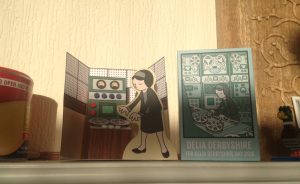 BUY TICKETS FOR DD DAY 2017 at BAND on the WALL