Delia Derbyshire and the Cumbrian Connection
As part of our Heritage Lottery Fund supported electronic music heritage project running through 2017, Delia Derbyshire Day wanted to shine a light on the time Delia Derbsyhire spent in Cumbria in the 1970s after leaving the BBC Radiophonic Workshop.
To explore this connection, we partnered with sound art and new music organisation Full of Noises based in Barrow in Furness, South Cumbria. We delivered a special one day creative event in Barrow–in-Furness in August 2017 including electronic music workshops for families and an evening cultural heritage event featuring live music and digital visual art performances, archive sharing and a post-show Q&A.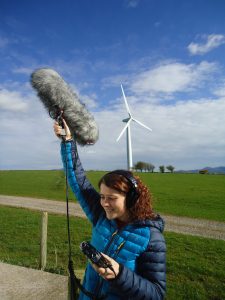 Cumbrian based sound artist and oral historian Jenn Mattinson was commissioned by Full of Noises to create a new piece to be premiered at the event. Jenn's work explores multidisciplinary approaches to storytelling and she has previously produced award winning radio and sound art pieces. Jenn says about the new piece:
"This particular story covers the time electronic music pioneer Delia Derbyshire spent in Cumbria in the mid-1970s.  It's one of those stories that will always remain rather ambiguous, as very little is known about this period in her life, so I have tried to reflect this in parts of the telling, and added my own theatrical interpretations to the piece.   It has a foundation of two female oral history testimonies with an original sonic composition, produced to help reflect and re-tell elements of the story and inspired by some of Delia's quirky methods and techniques."
Jenn's meticulously crafted piece is now available for listening: