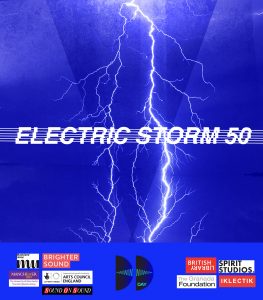 DD Day 2019 is go! We now have all the funding and project partners in place to offer another smorgasbord of Delia Derbyshire inspired creativity. With opportunities for younger artists, new work by the awesome Bishi being commissioned, events, workshops and more.
"Electric Storm 50" project activities:
1. 3 artist commissions inspired by the "Electric Storm" album and Delia  – 1 invited headline artist & a public callout for 1 sound/music & 1 digital artist, aged 30 or under. New works to be performed at DD Day 2019 & touring events. Click here to meet our commissioned artists.
2. Brighter Sound electronic music residency for female* artists aged 16-25 in Manchester in January 2020. More info in due course.
3. Researcher David Butler will produce "Electric Storm" audio feature about the album, its production and legacy. To be presented at DD Day 2019, then published online.
4. 2 outreach events (1 masterclass & 1 talk) & 3 workshops (1 for children/families, 2 for adults) as part of DD Day 2019 MCR at Spirit Studios.
5. DD Day 2019 "Electric Storm" Manchester event at Spirit Studios 23/11/19 with expert talk/panel discussion, audio feature and live music/digital art performances.
6. Two touring events: London (British Library) 30/11/19 and Leeds (Inner City Electronic Festival) in May/June 2020.
With thanks to our funders Arts Council England, The Granada Foundation and Musicians Union.
7. "Electric Storm" composition and performance project with Loreto College Sept-Nov 2019, culminating in a pop-up performance (venue TBA) in Manchester. This project is supported by One Education Music, Manchester Youth Music Hub and The Matthew Nicholls Foundation.
We also appreciate much support in kind and contributions from our project partners Sound On Sound Magazine (media sponsors), Spirit Studios (DD Day 2019 MCR venue sponsor), John Rylands Library/University of Manchester, Brighter Sound and touring partners British Library, Iklectik Lab (London) and Inner City Electronic Festival (Leeds).
More info to be shared as the project progresses.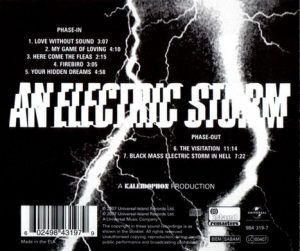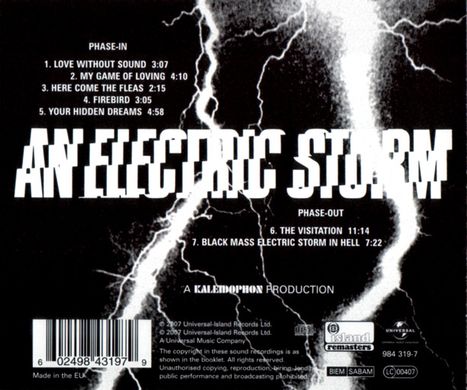 ©Island Records a division of Universal Music Ltd