A round up of what we have been up to with new art, events and workshops
We have now almost completed our "Electric Storm 50" project and have worked with so many creative folk who have been consistently inspired by the work of Delia Derbyshire and her fellow White Noise band members. We cooked up a number of "electric storms" in a variety of forms and here is a brief summary of our project activities. This project has been supported by Arts Council England, The Granada Foundation, Musicians' Union, The Matthew Nicholls Foundation, Manchester Youth Music Hub, Spirit Studios, Sound on Sound magazine, Brighter Sound, Genelec, RME Audio via Synthax Audio, Korg UK and Ableton.
Loreto College Electric Storm project & event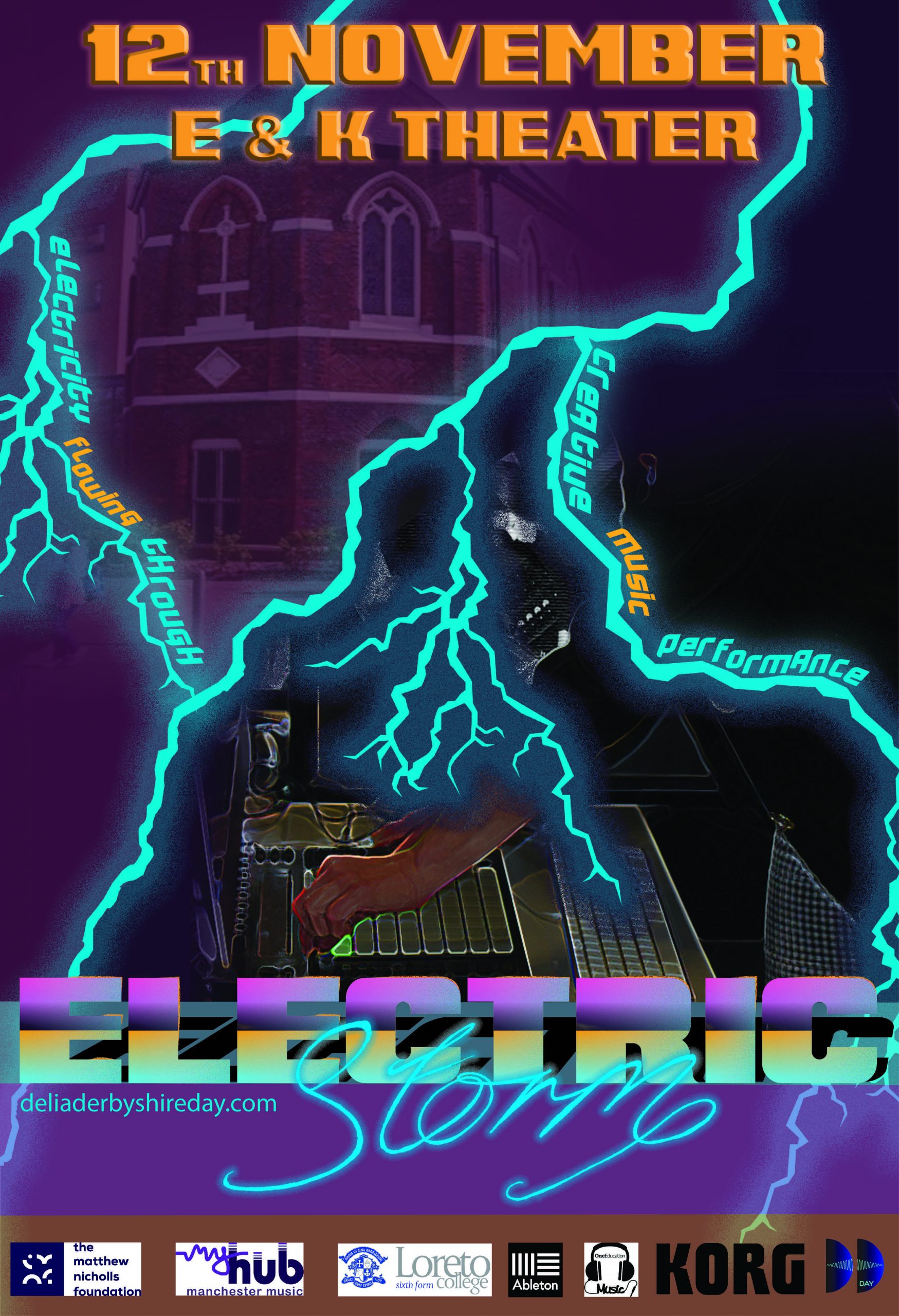 We worked with Loreto College music and media students to create new work inspired by "An Electric Storm" by White Noise. New music was produced and performed using Ableton software, Ableton Push controller, a string ensemble, Korg synths, sampling acoustic instruments and found sounds such as ping pong ball. This pilot project was in partnership with One Education Ltd and funded by Manchester Youth Music Hub and Matthew Nicholls Foundation. The students worked hard and were greatly inspired by "An Electric Storm" so we are definitely looking to continue our work with college age students.
"I've learned how far the roots of electronic music go. I had no idea how old these concepts (sampling, looping) are and how difficult it would have been…which would have inspired a lot of creativity." Adam Rowe, student
"We loved the performance and how the students were not regurgitating other music but developing their own voice and identity and taking creative risks." Rachel Nicholls, The Matthew Nicholls Foundation
The Making of "An Electric Storm" – interview with David Vorhaus

We interviewed David Vorhaus who instigated the White Noise trio (Delia, David & Brian Hodgson of Dr Who/BBC Radiophonic Workshop) to find out more about how this visionary album was made. CLICK HERE to read the fascinating interview.
DD day eve masterclass with Julie MacClarnon

Studio recording engineer and producer Julie MacClarnon delivered a special recording with tape masterclass on DD Day eve 2019 at Spirit Studios. Julie explored her practice of working with tape – no computer in the studio! Julie is a big Delia Derbyshire and DD Day fan and it was an honour to have her inspire Spirit's music production and audio engineering students.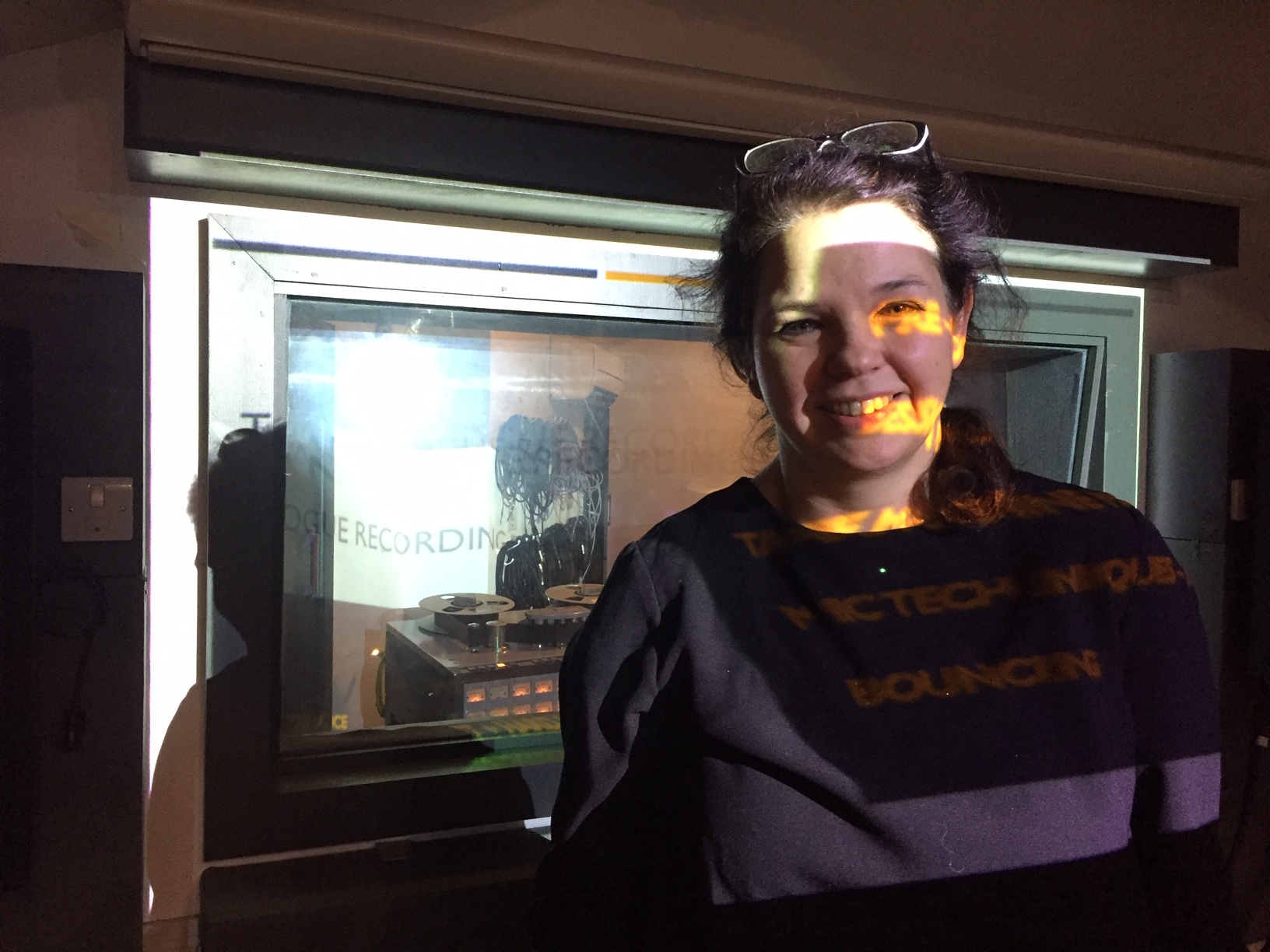 Delia Derbyshire Day 2019 in Manchester, UK, took place on 23 November at Spirit Studios. This edition honoured the 50th anniversary of "An Electric Storm" by White Noise, a trio electronic music pioneer Delia Derbyshire was part of. We were excited to look into Delia's work beyond the BBC and have David Vorhaus of White Noise involved in the event, giving first hand accounts of working with Delia and Brian Hodgson on this cult album.
The event included electronic music workshops to create your own electric storm, a talk by David Vorhaus as well as panel discussion unpacking the production and legacy of "An Electric Storm."
DD Day is a platform for electronic music past, present and future so we also presented 2 new audio-visual works by commissioned artists BISHI, Kat Lovell & Izzy Bolt plus DJ's Tukatz & PeRiSuu.
DD Day 2019 was supported by Arts Council England, The Granada Foundation, Musicians' Union and Spirit Studios with beginner workshop 5.1 system provided by Genelec & RME Audio via Synthax Audio UK.
DD day 2019 MCR workshops new music

What participants liked best:
"Using the materials to make sounds"

"How we had a bunch of speakers to put a sample in each one"

"I liked how you could have the opportunity to work with surround sound but make friends"
What participants liked best:
"Hearing the finished piece coming together and introduction to concepts involved"

"The ability to meet other artists and use a professional set-up"

"Hearing the piece constructed out of everyone's sounds"
David Vorhaus of White Noise talking about the making of "An Electric Storm"

DD Day 2019 commission 1: BISHI

We invited BISHI to create new work inspired and informed by "An Electric Storm." She composed, produced and performed a new EP called "Telescope Eye" released on her label Gryphon Records.
DD Day 2019 commission 2: Kat Lovell & Izzy Bolt

After our first public callout for new art commissions, Kat Lovell (music) and Izzy Bolt (digital visual) produced their own electric storm informed and inspired by "An Electric Storm".
Kat produced a 15 minute electronic composition featuring natural and organic sounds, a folk song, an improvised drum section all performed with live coding.

The digital visual piece by Izzy Bolt takes inspiration from Delia's innovative research with sound, so Izzy took the decision to build things from the ground up and programme all the controls to MIDI. Taking inspiration from stereo expansion used in An Electric Storm, the piece combines movement and transformation of visuals that mirrors the audio composition whilst taking on its own qualities.

An extract of this new work will be available soon.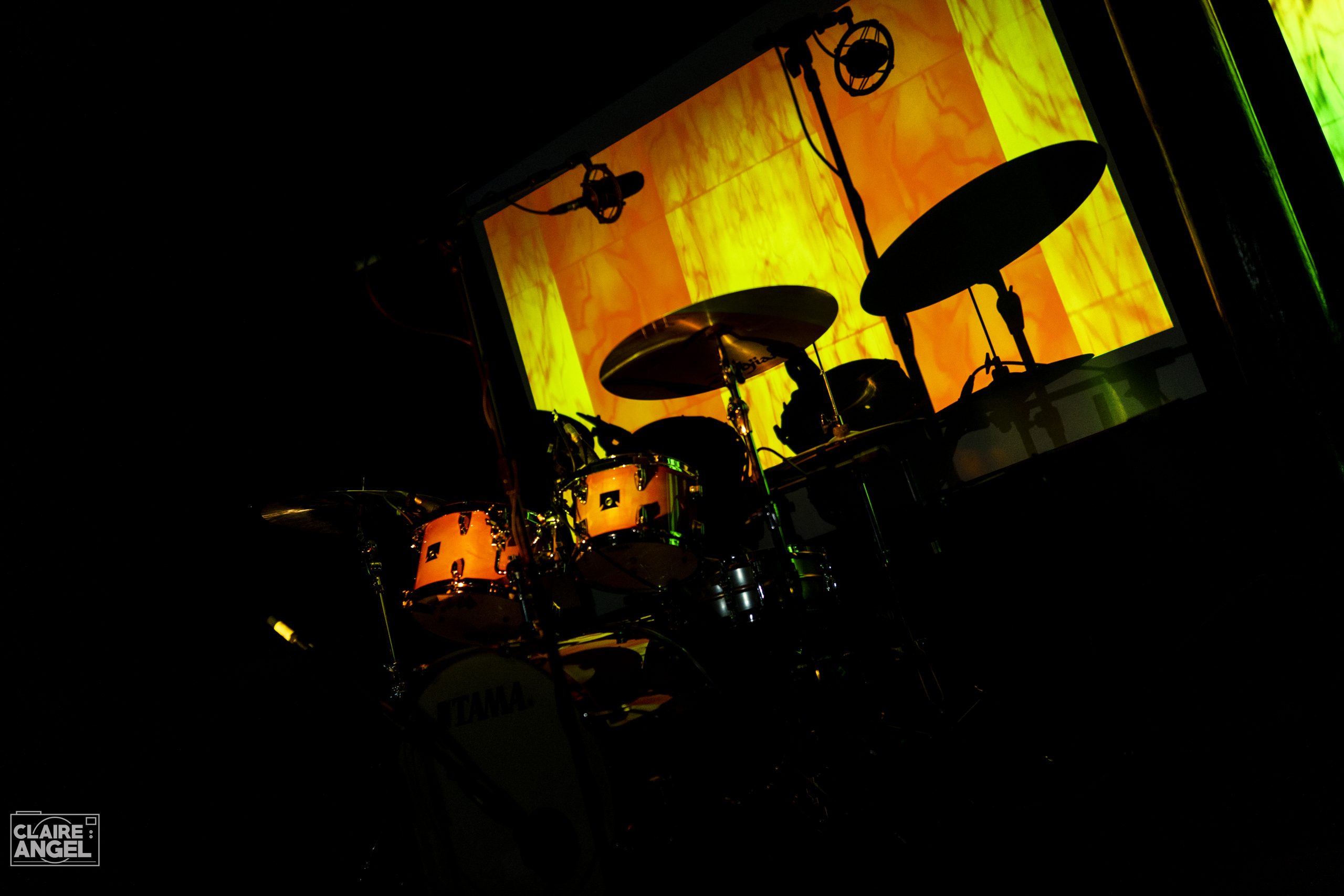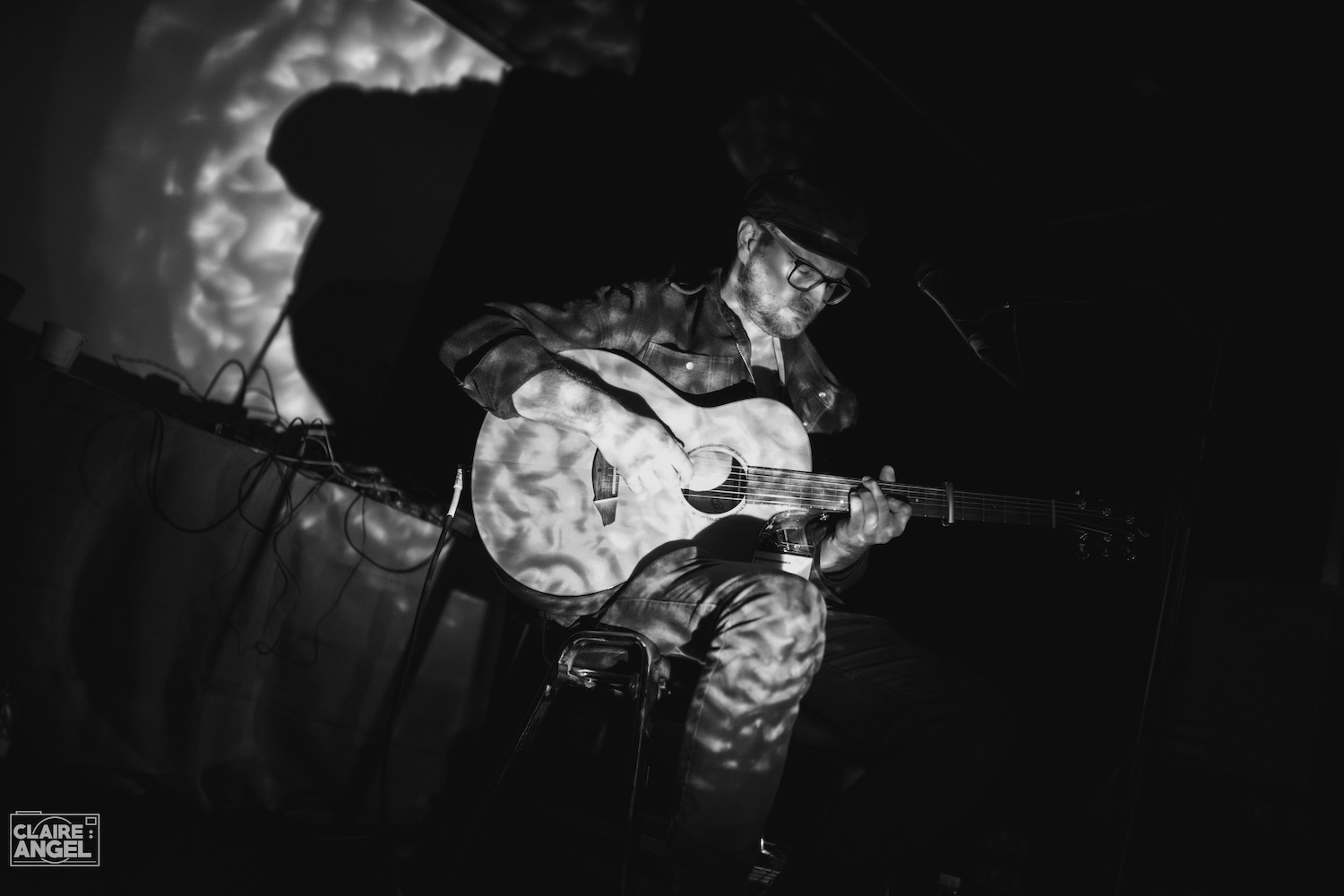 New audio feature about "An Electric Storm"

David Butler, our chair of trustees and a lead researcher of Delia Derbyshire, produced a new audio feature: "The White Noise: An Audio Feature in Stereophonic Hell". This is a collage of audio arranged and edited by David Butler with video by Andrea Pazos produced for Delia Derbyshire Day 2019.
The feature was made in the spirit of the four 'Inventions for Radio', which Delia Derbyshire collaborated on with the dramatist Barry Bermange.
Drawing on music and sound design by Delia Derbyshire, Brian Hodgson and David Vorhaus from the Kaleidophon years when "An Electric Storm" was made and released, the feature includes the voices of Ian Campell, Chris Carter, Ian Heliwell, Suzy Mangion, Cosey Fanni Tutti, Adrian Utley, Martyn Ware and Mandy Wigby as well as an original arrangement and performance of 'Firebird' by Morris Clarke on steel pans.
DD Day 2019 LDN edition at British Library

Thanks to BISHI mentioning her commission on social media, we were very excited to be invited to present a DD Day 2019 LDN event at British Library on 30 November 2019.
We held daytime workshops for ages 12+ supported by a Genelec 5.1 surround sound system and RME Audio/Synthax Audio.
Then there was a mini symposium unpacking the album "An Electric Storm" and its legacy which featured White Noise members David Vorhaus and Brian Hodgson, presented by Jo Langton.
The day was polished off with a performance packed late event presented by Nemone (BBC 6 Music). Approximately 300 audience members were offered live audio visual performances inspired by Delia and "An Electric Storm" with Architects of Rosslyn, BISHI, Caro C/Andrea Pazos, Kat Lovell/Izzy Bolt and creative DJ Lisa Busby. The event was produced in partnership with Ikectik Lab (London).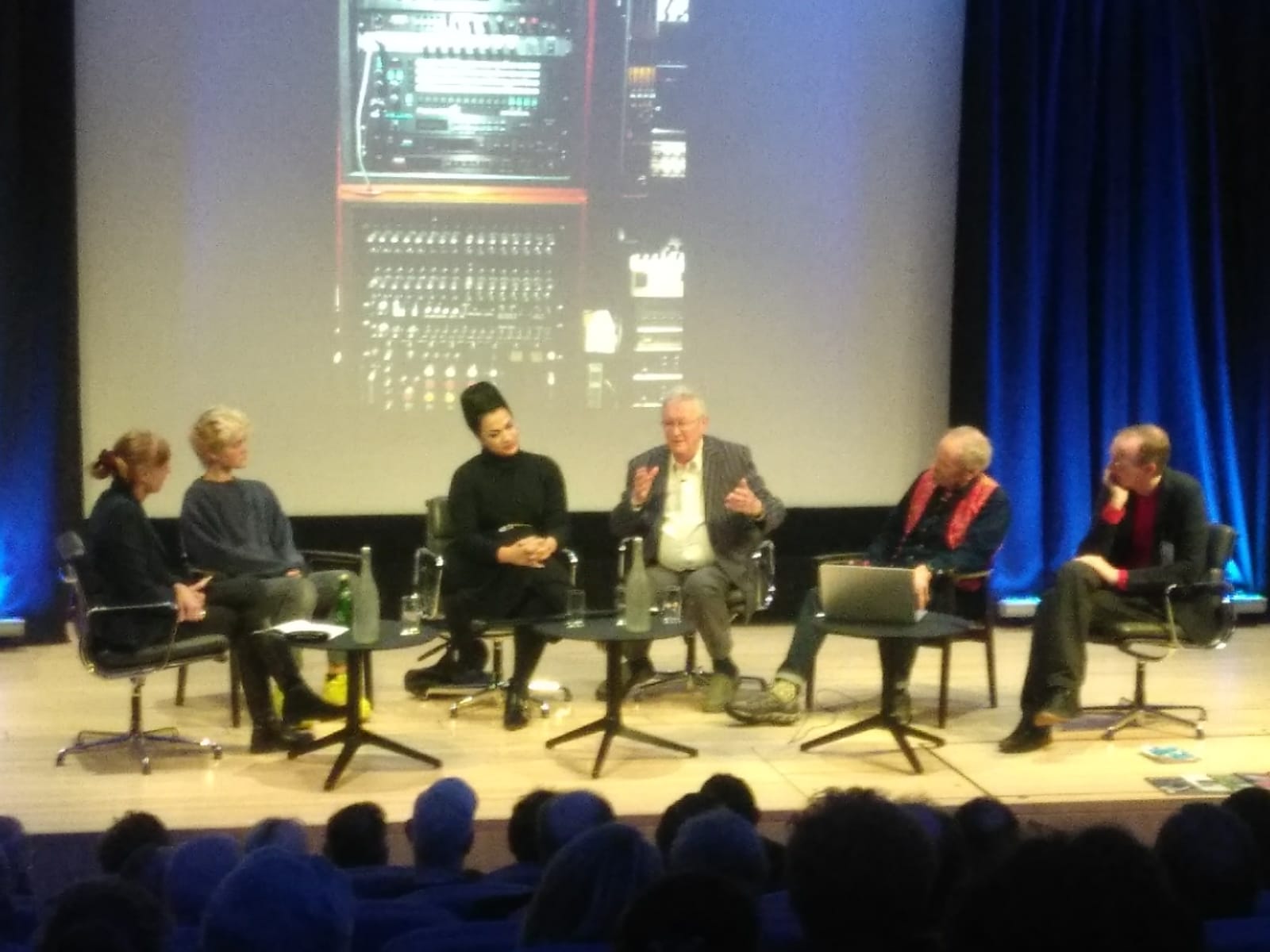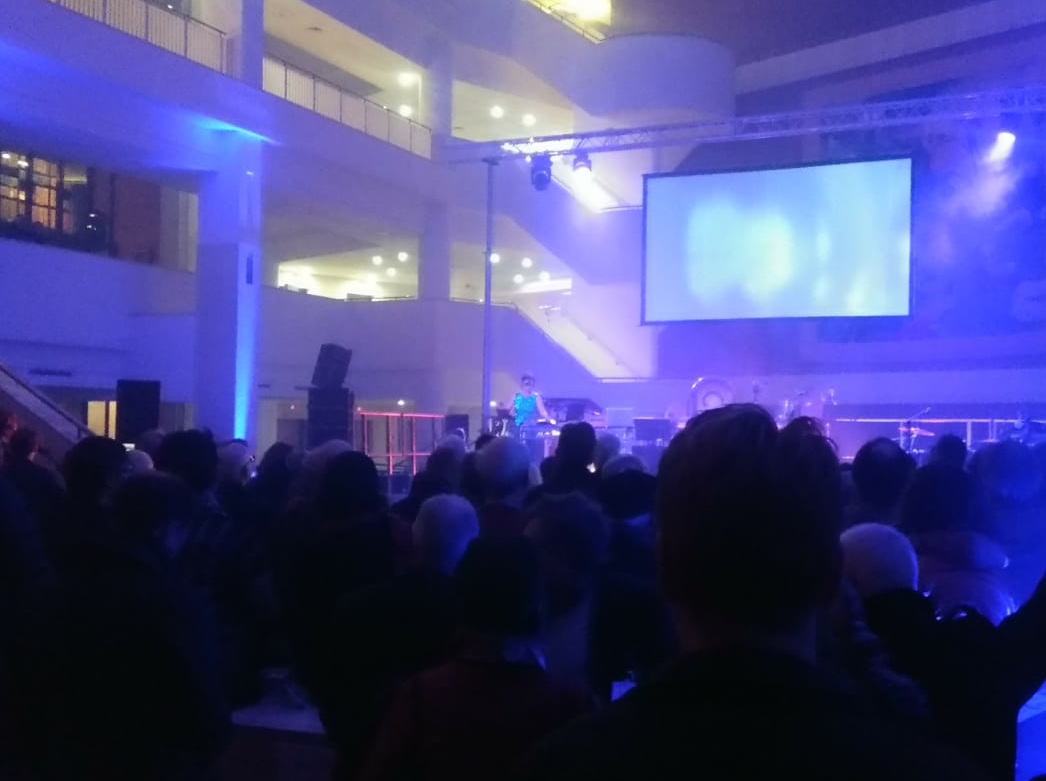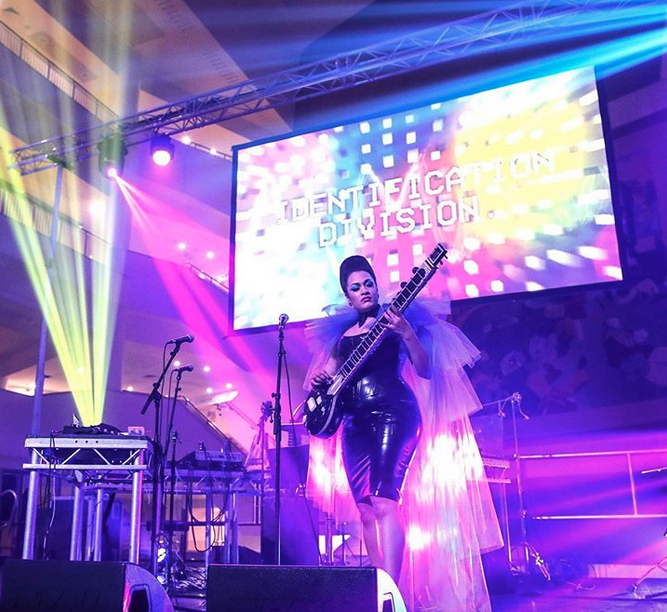 DD day 2019 LDN workshops new music


"I learned to create different sounds e.g. the lampshade & changing vocals"
" It captured the excitement and creativity that I can imagine the Radiophonic Workshop engineers experienced in the studio."
Both Sides Now "electric storm" residency
In January 2020, we designed and delivered an "Electric Storm" creative residency with Brighter Sound, hosted and supported by Spirit Studios. 14 brilliant and dedicated younger musicians/visual artists collaborated to create a bold new 30 minute audio visual performance – their collective electric storm inspired by White Noise's album and Delia Derbyshire.
DD day 2019 at Inner City Electronic, Leeds

The final activity for our "Electric Storm 50" project will be a slot at Inner City Electronic Festival in Leeds on Sat 7 March 2020. Please visit our
Events page
for more info and come along if you can!