DD DAY 2021 Masterclass 1 – artists interacting with DD Archive
Caro C & Emma Margetson
Welcome to the transcript from our first masterclass/expert talk session for our DD Day 2021 programme. For an informal and creative start, first up were professional artists Caro C (instigator of DD Day and experimental electronic music artist) and Emma Margetson (experimental electronic/electroacoustic composer and DD Day workshop facilitator). We talked about why discovering Delia was important to us and which items in the DD Archive at John Rylands Library in Manchester, UK acted as a springboard for new work we have performed and recorded. This was a chance to get under the hood of how two dedicated and passionate artists who love working with sound, create their electronic music software produced compositions. 
With grateful thanks to Arts Council England for supporting this year's project, whose theme was imagination.
CARO: Hello and welcome to the first of our DD Day 2001 masterclass series.
The theme for this year's project is 'imagination' so with our trustees we have compiled this series of talks and masterclasses to make the most of our circumstances and hopefully maybe more people might be able to access our work internationally because, especially at the moment, we are limited to our geography. So this is a way for us to be able to share some of our passion and knowledge and learnings further afield.
Thanks to the Arts Council England and the lottery players for making this possible. Thanks also to The Granada Foundation who are supporting our commissioned artists this year for our DD Day 2021 programme.
So, your artists this evening are myself, Caro C and Emma Margetson who is based in the Midlands. We'll do a  little introduction to ourselves and then we will start to unpack some discussions around Delia and her archive, her work and working methods.
Questions – we'd like to make the most of this platform so you can ask questions towards the end of the session. If you have any questions as we are going along, feel free to put them in the chat, but we will only look at them towards the end once we have been able to let some kind of discussion flow. I hope that sounds OK. If there are any burning questions or terminology or any particular words that any of you are not familiar with, pop them in the chat and we'll try and define or clarify them the best that we can. 
OK. So, I am Caro C, and I describe myself as an artist, an engineer and a facilitator in music, sound and words. I came to music really as an adult, it sort of found me, didn't enjoy music at school really and I didn't really connect with it. I was a linguist.
Then I was laid up for five years with back trouble. I got the wrong operation and continued to be laid up.
So, I taught myself – I wanted to teach myself to draw and to play piano. I did quite well at the drawing, got quite good at hands and drawing the cat as it was sleeping. But I got more into synthesisers and reading the manual of a Korg Poly 800 which was in-between the analogue and digital ages.
So I was laid up, living in a double decker bus, nourished by a musical diet of Warp records and some classical music, a lot of ambient music. And I just started tinkering really with various analogue machines, including one of my favourite instruments still, which is my Boss PS2 shift delay which I like to use for my voice mainly and do lots of feeding back on itself. More about that later.
So I guess in a way I found my own way in to music. I started out performing live, recording and collaborating in Newcastle-upon-Tyne, then I went to Berlin and then I came to Manchester.
I've written four albums, just released my fourth, called "Electric Mountain." I do a lot of educational work, both beyond and within Delia Derbyshire Day. I instigated Delia Derbyshire Day and now work with the charity as project manager. Our trustees drive the work and it's my job on the day to day to make most of that happen. So artist, albums, commissions, freelance artist and teacher, also writing music and sound design for dance, sculpture, fashion show, theatre and more!
There's been all these random wonderful opportunities and I guess over the last year or so, not being able to perform, do my usual touring and out and about collaborations, it's podcast production really, that's saved my sonic bacon. So I'm the host for Sound On Sound magazine's electronic music channel and I work on a couple of other podcast as a producer or host. I am therefore still very much in the sound which I love like Delia did. I love to be in the sound – that's my happy place, when I can just really be sculpting the sounds, working with the space, really trying to pinpoint the emotions, the humanity, that I need to communicate via the technology.  I guess like Delia, there is a similar joyful curiosity too. So we are talking about the magic of music, the power of sound and bringing the two together, bringing together music and sound and words. Also I have been accused of being innovative. I'm not sure why but I get accused of it, but it could be worse. 
When I first discovered Delia, it was in the days of My Space and it was actually quite reassuring because I was told a lot that it was strange that I was a woman doing what I do, working with electronica what I call sensual electronica, not very formulaic. I do find my own sound, I need to find my own sound. It was reassuring to find this lineage behind me of Delia, Daphne, Laurie Anderson and many more, but as I started to discover these women in the past, who were also, I would say, adventurers in sound and interested in finding their own sound dedicated to their craft, it somehow gave me a bit more be of a firm foundation to stand on, I guess.
When I heard Delia saying about her feeling or being the fish swimming the other way, I could definitely relate to that. I have actually got a birthday card with that on! But also, I sort of developed a phrase my sister said called "dare to be rare" and yes, that is quite important to me I think, I'm only really excited by artists who do dare to be rare. There's also the found sound aspect of my work. One of them at the moment is this mustard pot lid. It's got a lovely pop sound to it which I like to play live and sample live.
Then there's a pin pong ball which has a, depending on what material, a nice sound. I love to play with found sounds. For me, there's something about the magic in the mundane, finding the music, the sonically poetic in the everyday, if you like, and there's something about then, once you have got those sounds, once you've captured those unique textures, it's about sculpting it then. It's about how are you going to sculpt that to work. For me again within an emotional narrative, within something that brings it back to – what are we doing here, why are we here? The questions we can't answer. I like to explore them in music and in sound.
I think we also both linguists.  So I speak French, Spanish, a bit of Italian, German, not very good German but German anyway. And gibberish, of course, so in that sense, it was nice to find out about Delia's interest in languages too. Also, all her sub-genre hopping which I also like to do. Her archive and the work that you can find on YouTube etc, I love the way she obviously, like many musicians, can play throughout many genres and subgenres, play and toy with formulas. Actually many of the genres and subgenres of electronic music didn't exist when Delia was working, so for me it's more I'm aware of all the different genres from drum and bass through to a bit of ambient and bring all those together, through to a bit of gamelan and all things I like to have as part of my musical palette. Emma would you like to tell us a bit about your work and how you discovered Delia and whether you can find any points of connection?
EMMA: Of course. Hello, everyone, my name is Emma Margetson, and thank you very much for joining us today. It's really lovely to see so many of you from wide and far. So I am an acousmatic composer and sound artist, as Caro said, based in the Midlands in the UK, and an award-winning composer. I've won a variety of awards, especially for my multichannel compositions and my approach to space and sound diffusion and the interpretation of that. With my compositions I tend to create highly immersive 2D and 3D sound worlds really. I've just recently finished a PhD with BEAST, the Birmingham Electro Acoustic Sound Theatre at the University of Birmingham. And it's stemmed from this research which in which my compositions have been focused on developing non-compositional approaches geared towards increasing the engagement with sound, quite often to reach wider audiences, in particular disadvantaged segments of communities and also younger people. So I've done a lot of workshops in the past, ranging from early years to adolescents, to adults as well. Because of that, I collaborated with various arts organisations over the past number of years, including say for instance the IKON, an art gallery in Birmingham, to Sampad, an  art and cultural heritage organisation, which focuses on South Asian music dance, theatre, and histories.
I also am a lecturer at the University of Greenwich in sound design and yes, I very much love working with sound, the same as Caro.
Really, I first indirectly came across Delia and her work when I was a child, when I was listening to the theme music for the original Dr Who series and I imagine a lot of you especially in the UK will know exactly what that sounds like. But obviously at that time I didn't know who it was by and in particular that it was produced by a female music composer or the electronic side of that.
So later on it became that bit more exciting really. Really over the past several years since I've been studying at university more so, because my secondary or primary school experience I never came across anything, I was taught the standard western traditional music side of things. I became a lot more increasingly interested in discovering the world of female electronic music composers so obviously Delia but also the likes of Pauline Oliveros to Daphne Oram and so on.
And that was partly, I guess, due to the lack of women in the field of electro acoustic music and it's I guess that discovery and innovation has really now helped and the work of those composers in the past has really helped shape the sonic landscape of today and is continuing to inspire as well. That is what I find the most exciting. My first really close encounter was when I directly worked back in November 2017 on a concert with BEAST in collaboration with the Delia Derbyshire Day organisation where we were commissioned to create a series of works in response to the archives in partnership with the Delia Derbyshire Estate. I think that gives a little overview of me.
CARO: Great. Thanks Emma. So let's talk about that visit to the archive and what you managed to find out and what the archive means to you. Actually, before I do that, I will give a little introduction to the archive. So, for those that don't know, the Delia Derbyshire archive which our work is centred around really, is based in Manchester at the John Rylands Library. I think Delia's archive arrived at about the same time I did in Manchester and it was Tullis Rennie, an artist liaison person for me at the gig who said to me, you do realise that one of the Godmothers of electronic music, her archive has just been donated to the University of Manchester. To which I said, no and wow! I knew  then that I just had to have to get to know this gem of electronic music heritage – I just couldn't help but think this is a gem of electronic music on our doorstep.
In 2007, I think it was 267 reel-to-reel audio tapes, there was also what we call the paper items, sort of working notes, correspondences, flyers, brochures, events, books. Some of Delia's school books are now in there, the tapes have been digitised, of course not all those tapes are Delia's music per se, a lot of them are things she recorded from the radio. I think Pink Floyd, Can and a lot of classical music in there, as well as working notes. So these are not the finished BBC or necessarily any other production, they're what we call the make-up tapes. So really they're the sketches, they're not any finished BBC material, that is in the BBC part of the BBC archive down south.
The collection has grown since then. There's been donations of films by Madelon Hooykaas and Elsa Stansfield that Delia worked with. I think there's also interviews in there now. Yes,  the school books that were found in an attic,  it's a constantly growing collection really.
And anyone in non-pandemic times can access the archive by visiting in person the John Rylands Library. Basically you sign up as a reader, you order items, it can be quite overwhelming deciding what to look at. But it's there and I think it's fantastic because I do think it is a gem of electronic music heritage and really important for us to see women's work archived which obviously doesn't happen as much.
So within that collection, I guess for me spending time with it, I spent time with it when I first made my Delia Derbyshire Day creative response for the first Delia Derbyshire Day in 2013, January 2013.
And Emma also spent time with the archive and actually in a different project had access to the samples to use Delia Derbyshire Day artists. We have a sort of general rule that no access to the archive, no sampling of the archive just to keep things simple for Delia's Intellectual Property. Whereas Emma's project, through Birmingham University, they were actually allowed to work with a couple of samples granted by the Delia Derbyshire Estate.
Spending time with the paper items even, I found that it sort of brought out the Alice in Wonderland in me. There's something about getting in there, looking through the keyhole and getting a glimpse of how someone like Delia worked, what was involved. There's the maths, the tape measuring, the music, the scores, she was classically trained and studies Maths and music at Cambridge University. For me it was also the language, such as these tape labels.You have got the bleeps, the bloops, then she talks about the heartbeat bump bass and all the maths in there.  She has her bloops and bleeps and in my project sessions I have my swishes, swashes and swoosh  and you know exactly where that is in the frequency range, so it does make sense to us. We all know the difference between a swish and a swash, it's like a cling and a clang, it just has a different frequency range.  You know straightaway what kind of sonority you are zooming in on there. And things like these wonderful little doodles, I guess, almost looks like a wolf's mouth or something. Delia was very visual like this I think. Emma, the piece, the sketch that worked as a spring board for you, that was very visual as well, wasn't it?
EMMA: Yes, it was. So over the course of a day, we looked at a lot of Delia's material and it was very overwhelming but it was the graphic illustrations that stood out to me a lot really. But then also I really enjoyed reading all the correspondences with people from the BBC and the back and forths. There was a level of humour within that as well which was really nice. So I guess you get a bit of a feeling of how her character and how she was as a person as well and then how that also inspired her work. So it provided, for me, a real personal connection to her and I've always been very conscious that if I am going to use anyone else's material, I really need to understand where it is that they have come from and how they have come to approach that material and to not lose that integrity. I  like to have integrity in that sense and to not detract from it or transform it in such a way that the essence of what it was or is, does not get lost. Just looking at this sketch, it says so much. The one thing I really like in particular is the coffee stains, so obviously maybe she was drawing the sketch in the morning, who knows? But it was striking in a few ways. So just, say for instance at the top you have got the note C, then the D flat and back to the note of C which implies some form of dissonance, so the shifting of a semi tone and then what does that mean? There's the smaller fragments, the triangular gestures which I guess could be some form of attack articulation and then decay. But then they're still within a larger gesture and then on top of that, there are the larger cyclic hollow forms. And so to me, it kind of represented this going from the top to bottom, this higher frequency spectrum, so maybe having these subtle fragments which are moving around the space and then at the bottom you have got this C, D flat, C which acts more of a stodgy material. 
My piece was a multichannel piece so I ended up composing an 8-channel work, so that is for a ring of 8 speakers. As a listener, you sit within the middle and so, in a way also that this kind of cyclic spherical thing, there's a lot of space and proximity and distance within that too that I wanted to draw on as well.
When I ended up reading more of Delia's content within the archives, but then also listening to more of the works before and after, I kind of ended up, for whatever reason, being inspired by the thoughts of dreams and some of the other works that Delia created. So it ended up being an amalgamation of the sketch as providing some kind of structure form, but then also having these cyclic hollow structures at times but then also these individual motifs as well.
As Caro said, I was fortunate to be granted permission to use a couple of samples of Delia's work. Essentially, I guess when you listen to the work soon, you will hear these kind of really subtle references of these fragments which are treated as small triangular gestures and they disappear subtly and form in the larger enveloping structures.
CARO: There's something going on with textures in there as well isn't there?
EMMA: Yes.
CARO: I'm aware it's projection, it's a one-way street, Delia is not here, obviously for us to ask her, but there's something about that, the bubbles in there, there's the depth of most of her music at that point especially for the BBC was for TV or radio and it's interesting how she still needed that visual mapping really. I do a similar thing. I do a kind of graphic score in terms of sometimes with some pieces, especially longer pieces. I think there's something that actually reflects back to you as an artist, how do I work, what do I do? I think by looking  at Delia then you get to learn more about your own process and what works for you I think.
CARO: Shall we talk about a couple of audio items then?
EMMA: OK, so let me share my audio with you. So there were two audio extracts I was provided with and they were both from the DD110 of the archives. I'm not going to lie, there was so much and I'm not entirely sure how that fits in within the larger archive but it's from the DD110 and let me play you the first one first.
[Rising motifs, short notes swirling]
So yes, that was Delia's "Psychedelian waltz" motif which formed part of the electronic music for the, I think it was in 1968, the film "Work is a Four Letter Word" which starred Cilla Black and David Warner. So obviously the waltz, the Um-cha-cha, Um-cha-cha, very catchy I always think and you kind of have this loop so, I don't know, it's, you get drawn in and compelled, it draws you in quite quickly.
The other is a very different motif. I won't play the whole of it, I'll play about 20 seconds.
As you can hear, there's the ascending interval motif. It's quirky. It's got the quasi dissonance, it creates the uneasy floating semi dream-like state and, as it repeats, further reverb, layering and that kind of helped me to think about the textures within the work as well and how to create the layering effect but also how this adds to the spatial dream-like swirling cyclic quality that I wanted to have within the form. So to me it seemed like a great motif to use within the work. Caro, do you want to talk about your samples?
CARO: Yes, thank you. You could really feel the harmonics were really rich, it was really building and the tape delay, you could hear that going on. Lovely. The two pieces that I wanted to share, well, it was very hard to choose two! I have still really only scratched the surface. I might get on the Mastermind quiz show about Delia but I wouldn't win it but I might just make it into the final. I have spent quite a bit of time with the archive now I guess but there's still so much more to uncover. For me the two pieces, the first one is Delia's experiments with the VCS3, one of the early synthesisers and I know the BBC Radiophonic Workshop had one as did Delia and David Vorhaus apparently bought the first one from Peter Zinovieff who recently passed away. With the VCS3, you can hear how she's exploring, you can hear she's trying to mould it to how she wants it. But Delia did say in Kara Blakes creative documentary "The Delian mode" which I think was the interview with John Cavanagh, says how she was disappointed by synthesisers, she wanted to get inside them and make them more human somehow. So she found them quite limited yet I couldn't help but really enjoy the sonority of this particular extract which I think is when she's working on animals for a BBC programme, a Kids TV programme called Noah I think? This is the one where she did the theme tune which is the four on the floor piece accused of being techno from 1971. This is her working out the soundtrack sounds here though. You have the animals,  the elephant is the first one and driving sound and other animals come in. 
(A stomping bass riff with swishy, swooping higher frequency phrases of electronic music)
CARO: I can feel the early experimentation with synthesis there and again that feeling of building something up. The second piece I want to share is the audio springboard for my commission. 
It's the one where Delia used the  Coolicon green lampshade, recorded it and then analysed the harmonics and the frequencies, took off the attack, leaving the gong sound and it had this lovely decaying sound wich she used to evoke a heat haze. She also recorded her own voice and did what she called transforming her voice into a castrated oboe. So in the make-up tape you can hear her playing a note on the piano, making the sound with her voice, playing another note, making the sound with her voice, and so on, recording that and then it sort of evolves into a rhythmic loop. I really loved having this insight into how this piece evolved which is a beautiful piece of eerie ambient music in around 1971 for a BBC documentary about The Sahara desert and the Tuareg people.
Great. So I think we are going to move on to talking about our commissions and our new works we made, inspired by Delia and informed by her work. It is a challenge I think. We need to find those points of connection with Delia, whilst not trying to be Delia, but also wanting to honour her. I felt in a way I had to be even more myself, I had to find within myself if I am looking at what Delia is who am I, you know, as an artist?
And at that point, I was recovering from another back operation, successful this time, hurray, and up until that point I'd been using hardware drum machine samplers, synthesizers and guitar pedals, a microphone. I think I just had enough of the presets, I realised that even though I was changing the presets, I had to take some kind of leap where, like Delia, like how she talked about synthesizers, I needed to get in there and actually sculpt the sound myself.
So actually that was the first time I created music for live that was created on a laptop so she pushed me to go into the realm of Ableton Live for live performance. But I still use Logic for the studio. My piece "Audient, My Dear" is  a 15-minute journey. Like Delia, there's a lot of sub-genre hopping. It starts off ambient, trip-hoppy, moody, then builds into  some four on the floor then this kind of cathartic industrial noisy section which is mainly driven by this little beast (the Boss PS2 pitch shift/delay pedal) feeding back on itself especially which I also recorded in Logic, as well as working with automation and Logic to build a kind of wall of sound, quite visceral. A visceral climax then going into a wonky waltz. Like Delia, I also like my wonky waltzes, so that felt right. I decided to create my own pentatonic scale. Delia made her own as well. Again it felt right to build my own harmonic framework in that sense. I also stripped it back to frequencies, analysing and enhancing or playing with the harmonics, but also starting with a sine tone. So I think there's something there about bringing it right back to the sort of really quite simple sound and then building upon that, almost like synthesizing without synthesisers.
So like Delia, I decided to start by recording my voice and I tried to sing frequencies instead of notes, although it's still mainly tuned to 440 Hertz. Once I did that it went a bit Aphex Twin, his "Ambient Works" album. From there I went up the circle of fifths,  a Bach or baroque classical kind of harmonic progression principle but Delia also had her classical training in that way so there was a bit of a nod to that. I enjoyed composing Bach chorales and Mozart accompaniments at one point. That's how I cut my cloth really with Western classical Music Theory, as I did an Open University course in music while I was laid up around the year 2000.
So, I'm going to play you  an extract first, of two minutes or so.
(Dreamy ambient electronic music, with ping pong ball sound coming in, spoken word building to a deep heart beat kind of beat driven rhythm with warm synthesiser sound and non-verbal vocal tones)
So within that, you heard a few of the found sounds:the ping pong ball I which I had to teach myself to play live in time.  I think I spent a weekend literally on my own with a ping pong ball with various surfaces to get different timbres, but especially looking at whether I wanted it to be more on the beat or syncopated, playing with different tempos and expressions. That was fun. There's also the good old ruler twang which I know that John Cain used in his theme tune about farmers for the BBC Radiophonic Workshop. I found that if you start off at 13cm on the table, twang it and move it backward and forward, you get some nice sounds as the pitch changes. I also had a metal chain that I played with. I had metal bowls which once you put water in, you get a nice pitch bend so I played with that too. Then I had an oven tray that I used as my tin bass. So that first bass sound that comes in is an old oven tray. So a lot of found sounds thrown in there.
I'm going to open up the actual session.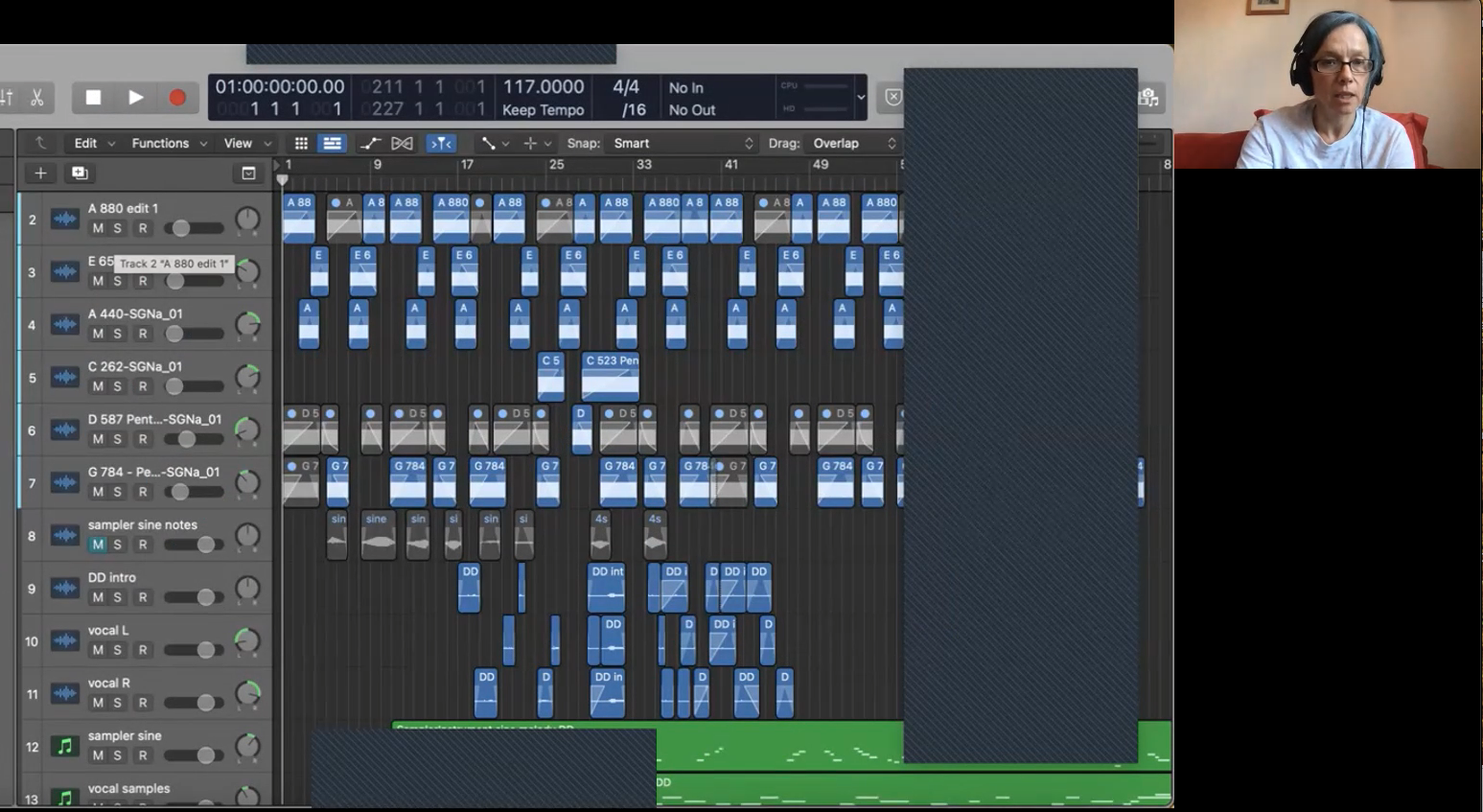 EMMA: We have a question from Teddy whilst you are opening your session: when you started to compose and find sounds for your piece, did you create sounds from scratch, like the musical aspect of the track?
CARO: Yes. So when we look at this, that should answer the question actually, thank you for that.
So we have here you can see that I went through the frequencies of my first pentatonic scale.
So I actually played the tones then recorded in the sound of my voice playing the sine tones, so there's the sine tones then further down you can hear and see my voice playing those sounds put through a sampler. It was very much about trying to build it up very organically really, plus my vocal sounds. And then there's the tin bass that I talked about. So if we listen to that just on its own.
(Tin bass)
I quite like that, that was quite atmospheric that one. And once I had those, I got some finger clicks in there, quite organic sounds, the water bowl, the chain…
I think what I also did was I brought in things like the familiar, the 808 drum machine, especially for the kick drums and I'm a particular fan of the 808 (drum machine's) rim shot. I find that I do keep returning to that and actually working on my last album, working with  my co-executive producer, Mandy Wigby, we talked about the balance between the adventurous and the familiar and how it's nice for the listener to have the familiar sounds in there too.
Again, a bit of a nod really to the world, the culture of electronic music and its development. I had a pepper shaker as well, one of my favourite shakers, just the little peppercorns have a particular nice little timbre to them. I used the Korg Poly800, it was almost half a tone out of tune which was perfect because it meant I could pitch shift it up half a tone which I think added more nice interesting distorted colour to it. In terms of how I built this, it had to be intuitive, of course, you are working with 15 minutes, with 50-odd tracks, nearly 60 tracks of music. So for me it's about showing up, I was in recovery from a major spinal operation and also exhaustion from living in disabling pain for nigh on 20 years. So it was one of those things, just keep turning up, keep letting it unfold and trying to let it show me as much as I had a plan of how it would unfold. You can see the first section, very much the ambient tones.
They do a weird thing when you put them together, it's the harmonics and the clashing and having little interplays and seeing what happens. A lot of the spoken word stuff is very much again playing with almost that tape texture that you can see here, the EQ here really is quite extreme and going for grainy, lo-fi. Bringing out the higher frequencies to try to get that sort of to sit within the mix. I'm not a fan of the pop vocal being on top. I much prefer it being part of the texture, but still having the words understood. Let's listen to some of the vocal samples.
You can see again, bringing out the air if you like at the top end of the frequency spectrum, taking out a lot of the body really to try to bring it the Ethel Real in me. I'd like to have that as a pseudonym for my more ambient work, If I could be bothered to have more than one artist name. I am pinching that from Dick Mills of the BBC Radiophonic Workshop, he talked about Ethel Real.
As the piece progresses along the timeline, it has transformed a bit now. We;ve got the chorus and the overdrive on my pedal board VST so really starting to get some new sonority out of that really. Let's  have a listen to the ruler boing. (Ruler boing) the chorus and the echo. I was trying to go for fluttery sounds there. I do love to have things dancing around the stereo field, hopefully not too much but I really need that kind of dynamic movement really, both spatially and frequency, Emma you accuse me of doing frequency specialisation didn't you which I didn't even though what it was?!
EMMA: I am curious with how you structured the session – so you have got the bass frequencies at the bottom. Is that intentional, harmonic progression with high frequencies at the top?
CARO: Yes, I think it's either the bass at the top or the bottom, it's even one or the other. It's the foundation so it makes sense for it to be the foundation within the session as well, yes. I was very aware that I wanted to have kind of movements, if you like, so I knew I did write a whole timeline map for this, I knew over the 15 minutes that I would progress through different sub genres, so in that sense the timeline was quite almost methodically pre-meditated.
EMMA: So when you chose what found sound objects you wanted to include within the work, did that sort of through the process of creation play or more so within the session itself lead to then how you transposed, processed them and transformed them in various ways? How do you feel that creative response, whether through recording or editing and mixing…
CARO: I think it's a mix really. Sometimes you just hear the sound, for example the ping pong ball. It's something about the timbre isn't it, something about that, you will only get from that particular material and size of a plastic ball. So I think there's something about the sound itself knowing where it sits. For example, the tin. Knowing where that sits, and then it's either enhancing that so the ruler for example I did go more be for a fluttery sound so I will have taken out a lot of the lower frequencies but also probably the higher ones. So I think it starts off as a "listen to that sound, listen to its bit of magic or its personality" I guess and then it's where can that fit within that conversation, within that chorus of stuff. So there's the frequencies but also the  rhythms of the sounds and all the musical elements it carries really.
EMMA: Great. Someone has asked, could you say more about the use of tape recording, slicing and the changing in tempo that Delia used and how would she have used that technology today and I guess has that inspired or influenced how you have chosen to approach this work?
CARO: I think obviously I noticed that electronic music, a lot of it that I listen to, that I work with, is loop-based. And when with I teach in primary schools, we talk about repetition, variation and change. Yes, Delia was highly, highly musical, a lot more musically educated than me and I think a lot cleverer generally. So in that sense I guess I'm working with the tools that I've got. I'm a very physical musician. And so, for me, it's whether it feels right. So some of my timings are not perfect. I don't want them to be. Some of my voice stuff is micro-tonal and I'm trying to retain a bit of that really one because I don't want to be completely confined by the societal conventions of what a voice should do but I want to be international in that sense. There's more humanity that comes out in dissonance, that comes out in the imperfections. So for example, Delia talked about her realisation of the original Dr Who them and talked about how it was rough and they said it's not perfect. I made a waltz that was the closest I got to being signed to a big label and I made it in a couple of hours on a four-track when I just wanted to make something cheesy, I called it "Say Cheese!" –  it's a waltz. And there's mistakes in there, it's not perfect, but it's got character and I think again, humanity can shine through. At the same time as I love learning the frames, the principles, the limiting factors in a sense, the science of how I need some kind of scaffolding, I need a framework when I listen to music.
When you think about what Delia was making, especially working with other mediums, whether it's for radio, TV, theatre, then it is about serving something. So you are not wanting to take away from already what the audience member is needing to take in. That is why I guess there is a lot of familiar structures and electronica classic sounds which I come back to a lot more in my new album, my most recent album. I think there's something about that language. It's a lexicon that you can almost sit in and go "OK this is where we are" and a lot of Delia's work was in the finer details, wasn't it? It was in the more subtle touches of her musicality, her maths, of her amazing craftsmanship of working with tape. So I think in a way it was easier now to be as fluid back then, if you like, and human and in another way it's harder.
I feel like I am maybe more confined by the time line, the grid kind of format of most digital audio workstations, the ones I use anyway. So it's like how that would have been maybe easier with a tape because you can increase the speed a bit, whereas within everything that works on a grid for me with logic especially and I can automate the tempo on here and so I can play with that in the tempo here and I can do that for production. But there's almost certain restrictions because it's digital and because it's mapped out for you. And put into a grid. I know you use Reaper a lot probably for that reason.
I think I'm going to pass over to you now Emma if that is all right and have look at your stuff.
EMMA: I was going to say, I guess we as composers work in a temporal way with this sort of time-based notion and I am always curious to consider if Delia's thought more in the terms of a spatial or on a wider motive, like in various different ways work out how that pans out over time.
CARO: She worked in inches as well didn't she? You look at the archive and it shows that. So I think in that sense they had a different kind of grid maybe.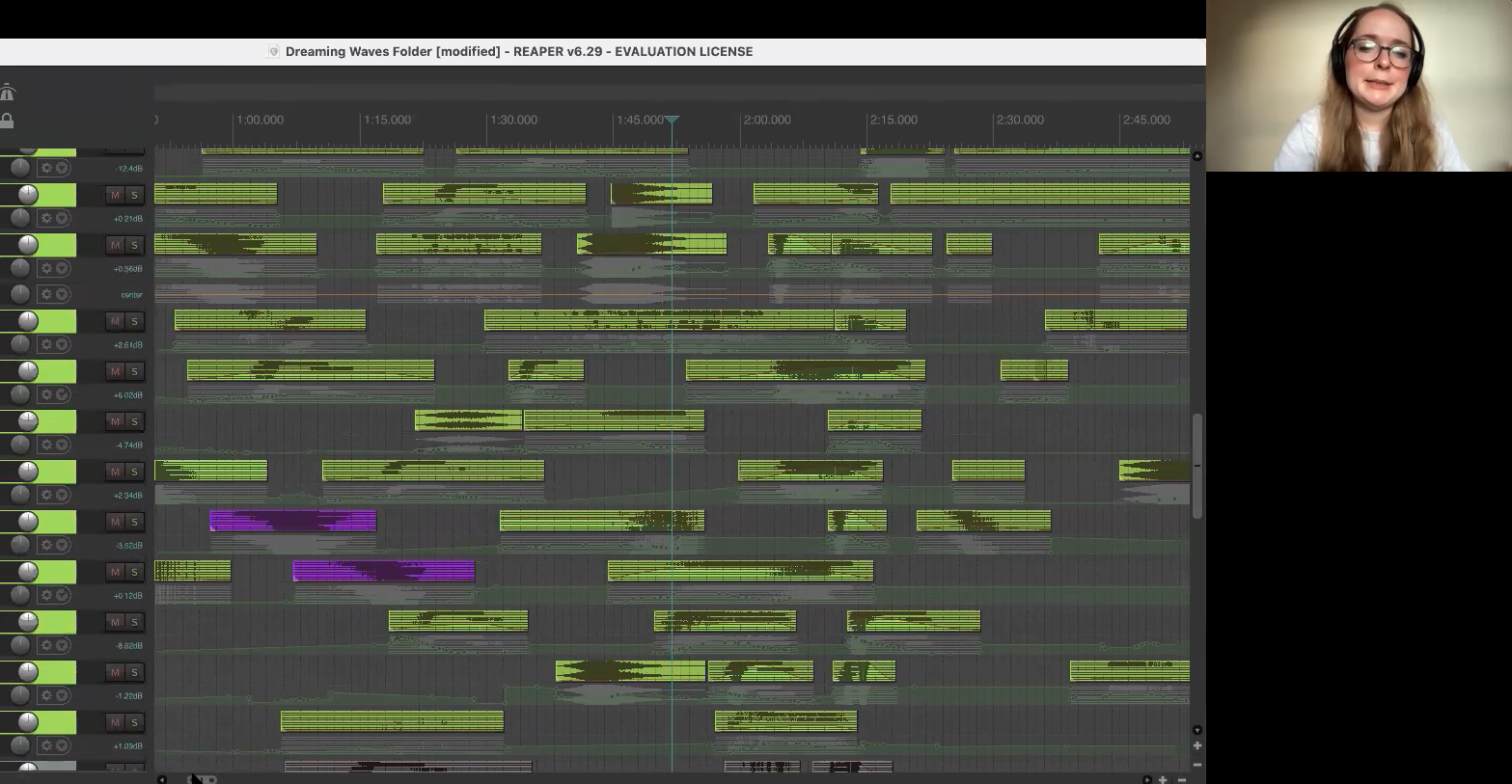 EMMA: Yes. My composition was called "Dreaming" using electronic material and close-up microphone recordings of the voice. In a particular moment in the piece, everything, all the spatialisation, all the music draws into the front speaker. But then there's also field recordings, so there's church bells  and all these kind of different floaty sounds that maybe sometimes you hear within dreams for whatever reason, for whatever emotional connection that may draw.
Then also the archival material of those two short extracts. It was inspired heavily by The Inventions for Radio piece called "Dreams that Delia composed music for, where there were all the different references to dreaming. I tried to draw upon that as the starting off point. And so this kind of notion of dreaming, the ebbing and flowing really helped me to think about the use of space and the motion within that space for an 8-channel format.
I guess the same with you Caro with this work, it was the start of new explorations, that was my first multichannel composition so it was more daunting in a way knowing that also I really have to be very sensible and careful and yes, be very sensitive to how I'm using Delia's work and hoping that I do it justice and credit and not detract in any way. I'm challenged with this new way in which of composing and thinking about space and I was wanting to compose the multichannel work for ages. I thought, I'm going to dive in at the deep end and just go for it!
And so yes, there are the synthesized gestures which float around the ring of 8 speakers and I guess it was this kind of notion of these kind of small pockets of memories enveloped within the larger abstract motions which are referenced within the sketch that I showed before.
Within the composition, I wanted to create the spatialised seamless movements, rather than create an intrusive character and so you will hear a lot of gradual transformations and time stretches of material at different tempos and pitches, in different timbres and textures which gradually emerge and decay throughout. So let me play you a couple of minutes so that you have an idea and then I can show you my session.
This is a stereo reduction so you won't get the full spatial experience but I'll play from somewhere near to the start so that you have a bit of an idea.
(Dreamy swirling electronic music plays)
The full version is on sound cloud if you want to take a listen to it after to get how it's situated within the rest of the work. Let me share with you then my compositional brain, a deep dive into that, which to some of you may look a little bit horrifying!
OK. Obviously this was an 8 channel work, so there are a lot of 8 channel stems. This is  a final mix really where I have already bounced down and exported some sounds to 8 channels. I tend to this because you see if I zoom out, actually I've got 60 tracks. You probably end up not being able to hear all of it but it's the way in which I process and start to merge sounds together so there'll only be really particular areas within the work where there's a lot going on and then other times where there's less going on, but it's this kind of the way in which I kind of layer sounds together. But I also like to render out my sounds a lot of the time and put them back into my session once I'm happy with them. In terms of a work flow, it will max out the CPU too.
In terms of the spatialisation, for this work, I use the spatialisation plug-in that comes with Reaper, but I also used GRM spaces, so the GRM Tools.  I have an area where I just generate, process and transform lots and lots of sounds and then I just chuck some out. I end up having a whole directory full of processed sounds. Quite often I also like to recycle, like transform and reprocess sounds over and over and over again and sometimes use them within other works as well. This is kind of very much a bit of a chaotic glimpse into my mind so I've got this area in which I record and process and do lots of things like drop stuff in, whether that is with synthesisers or other things. Then I've got this mixing state and I like to have that fluidity between the two and quite often even when I'm spatialising or rendering a sound, I'll be adding effects on to that as well. It's what I quite like about the GRM Tools plug-ins. If I show you quickly. With the GRM Tools, they come with GRM Space filters, so you can choose what frequencies you want to be filtered within particular areas of composition. I also really enjoy playing with space grain as well. This is an 8 channel piece, and I'm moving toward a lot more using ambisonics and having that flexibility to be able to decode to whatever speaker format and be able to simply listen binaurally as well at home.
This is kind of the final refinement, I guess. So I kind of just mashed up together to see the sound and it's that level of intuition and adding, layering, processing, which gradually kind of draws out and maybe to some looks like an absolute nightmare but there is logic in the madness!
CARO: I think there's something about how they had to print to tape as well to bounce down. It blows my mind a bit that each of those tracks has 8 tracks within it. It's like you are having to do that for practical reasons but you also said you like doing that because it helps you just make creative decisions.
EMMA: Yes, definitely. Say for instance even if I was to take this sound alone. (Swirling sound) it's a full spatial sound but as you can see it's predominantly to the left, on channels 1, 3, 5 and 7, then it's moved more towards a frontal stereo speaker. I like the idea of the gradual addition and layering which informs the progression within the work too.
I always think, what are the characteristics, what are the structural qualities of the sounds and how does that feed into the larger formal structure? How does it feed into the natural flow and which is what I found so easy when working with Delia's material, they had that natural development and flow with the processing but also the motifs that she created.
CARO: I experienced this piece of Emma's in the Birmingham Electro Acoustic Sound Theatre and that must have been in 8 channels and thinking about it now, it struck me how you were subtle with it but somehow it was this beast, this big ship looking at the files there, almost like this big ship that you are trying to steer in a sense because with all those sounds and all that all that spatiality and temporality and sound, how you almost have to steer that, don't you, because there are so many layers.
EMMA: Yes, definitely.
CARO: It's a beast, played at BEAST (Birmingham Electro Acoustic Sound Theatre)!
EMMA: Yes. I guess it's probably what a lot of composers and what you will say as well Caro, we use our ears and let that guide us, let that material guide us.
CARO: Yes.
EMMA: In whatever way it takes us really and I guess that's the beauty of music and working with sound that we all have different responses and it moves us in different ways and that's what makes it so special.
CARO: Yes. And you want it to be alive don't you, you want it to have a life of its own.
EMMA: Of course.
CARO: I want to ask you, it's clear that that you and Delia were trained to a high standard, yet you chose to move away from that world as composers. You were drawn to the more sound electronic worlds. Could you explain that, do you know why that happened?
EMMA: I do. I first love the fact that it was electro acoustic music, so my first introduction to it was in the first year of university. It was very much like Marmite, I discovered very quickly. But that was because of the understanding and listening and not knowing really what it was and so there were people like "what is this?" And there were other people like "this is really cool" so it really challenges people, that genre for various reasons and to me, as a composer that had previously only ever composed instrumental music, it was limitless really.
You can do anything to it. You can transform a process and trick the listener into thinking that it's something completely different or, I like this idea of taking the listener on a journey, taking them into completely different spaces and it's the beauty of that, it's the beauty of the unknown and the exploration and the discovery. As a composer, but then also as a listener, and just the rich eclectic mix of music out there and it just widened my horizons in so many ways that now to me I find instrumental music challenging in a way because to me it's very limiting now. It's not but it is.
CARO: It feels that to you.
EMMA: It's more so within a box.
CARO: Yes. And I think Delia had that love of abstract sound and I can relate to that in terms of yes, the possibilities are endless but also you can get so personal. I've got this lyric, I'm falling in love with the possibilities of electronic sound all over again in my new album and it literally felt like that – I could pinpoint the textures, the emotion, the visceral stuff that I can't say,  it's just a different kind of language really and such a huge lexicon and vocabulary that you can play with and especially when I was doing the binaural. With the ambisonic music, it definitely keeps you in learning mode!
EMMA: It's also the openness, it's a language in which anyone can experience and connect with more so than in other genres maybe, and that is what I really like about it. It's when you teach it or it's when you introduce people to it, it's like, anyone can play a sound.
CARO: Yes.
EMMA: Not even if you have the equipment, you can go out and bash with found sound objects or anything, you can make a sound scape. That's what I really enjoy about it. I think really it's the act of listening that is really important as part of that.
CARO: Yes. And I think it's something about that, if you think it sounds right then just trust that. Marmite – some people like it, some people will think it's weird, to other people it will make perfect non-sense. There's something about it for me that makes me realise I'm an artist essentially and that's really what it's about and it's not, that's mainly what it's about, that's the most satisfying bit I guess.
Did anybody want to ask any questions in the chat? Do either of us have plans for post-pandemic live shows? Plans no, hopes yes! I actually managed to perform in a field at the weekend which was very exciting. So yes, hoping that live shows will get going again for sure. You Emma, anything booked in yet?
EMMA: Live shows not as such, I'm starting to work with a new ay of listening to music, in contrast to loudspeakers all around, I'm starting work with an IKO-speaker, a 20-face speaker placed in the middle of a room and it projects outwards, so I'm really interested to explore spatially and compositionally how that will work and inspire maybe my next process of composition.
CARO: Can I ask, I would like us to talk about this thing about being a female composer. So, Delia had problems with this, she said she wanted to be known as a composer. That's what Brian Hodgson said. At the same time that the work of Delia Derbyshire Day and  for me, it was important to discover more women in the lineage and being a member of international network female:pressure, it's really important for me to be aware of other women and gender minority people. For me it's a class thing as well, it's important for me to generally discover more under-represented people. So how do you feel about that term "female composer" does it make you shudder? It does make me cringe a bit, I feel more comfortable with"women composer" I think. It would be nice not to need the gender bit but I feel it's necessary for visibility somehow?
EMMA: I think that is the thing isn't it. But it's the issue of equality in general isn't it within the music industry and it's highlighting wider issues like as a composer being female I've experienced quite a few tricky situations in the past but I've also been very lucky to have had peers and friends who're composers and who've been extremely supportive.  So my experience is potentially different to that of others, but I don't have anything wrong with saying I'm a female composer but I guess my issue is that when it's used as a tokenistic thing and when it starts to become problematic and so then you start thinking, have I been programmed for that just because I'm a woman or, is it that my work is good enough to have been selected? I think there's  organisations who have done great work at trying to break down some of these issues and they are not necessarily all the time applied at the moment but hopefully in the long run I think a lot of these issues will hopefully get addressed in one way or another. At the moment, no I don't have any issues saying I'm a female composer, but at the same stage it shouldn't matter.
CARO: Yes.
EMMA: So I'm very much, I'm very conscious when teaching the curriculum to be representative of actually there are a lot of amazing female composers out there as well so I actively ensure that. I think that is the thing isn't it, like if we are going to voice and say these things, we also have to be proactive and actually tackle and address that.
CARO: Yes. When I've worked in schools and I have girls saying to me Delia is inspiring. I ask them why and they'll say because she didn't give up. The boys and girls when they heard about the gender discrimination that Delia experienced, they were very shocked. For example when they learned about her being told by Decca Records in 1957 that women can't work in recording studios, a boy said "that is racist Miss" I said "that is not that ist but it is an ist" but they were shocked, all the kids were like "this isn't right" and that was heartening in a sense that everyone realised that. And also, when a girl said "I didn't know the Dr Who theme was made by a girl, maybe that could be my job one day" it somehow feels of value. At the same time as it's also nice to be just a composer. I love the idea of anonymous applications where you don't know and the playing field could change in that sense. A tricky area but I thought it was interesting to discuss with us both working within the field. Someone has said in the chat praise the day when the tag is no longer necessary. Someone else saying they taught themselves synthesis on a Korg Poly-800. That was my baby that I started on. So yes, we are able to offer these sessions for free, thanks to the Arts Council. And we do have all our fundraising and merchandise, we are still a very small growing charity! We'll be doing these sessions the first Wednesday of every month up to November so join us for the others if you would like to.
As I say, this is the first time that we have done this, so any kind of feedback, what could be better, do let us know because we are learning and we want to make it as interesting, helpful, inspiring, accessible as we can. Thank you very much for all your lovely comments everyone, I'm glad you enjoyed it.
And please yes, do tell us to if you want us to improve anything for next time. Thank you everyone in the chat. Fascinating, good word, that is what we like to hear. Inspiration, nice! Really glad you all enjoyed it, thank you.  Thank you very much!