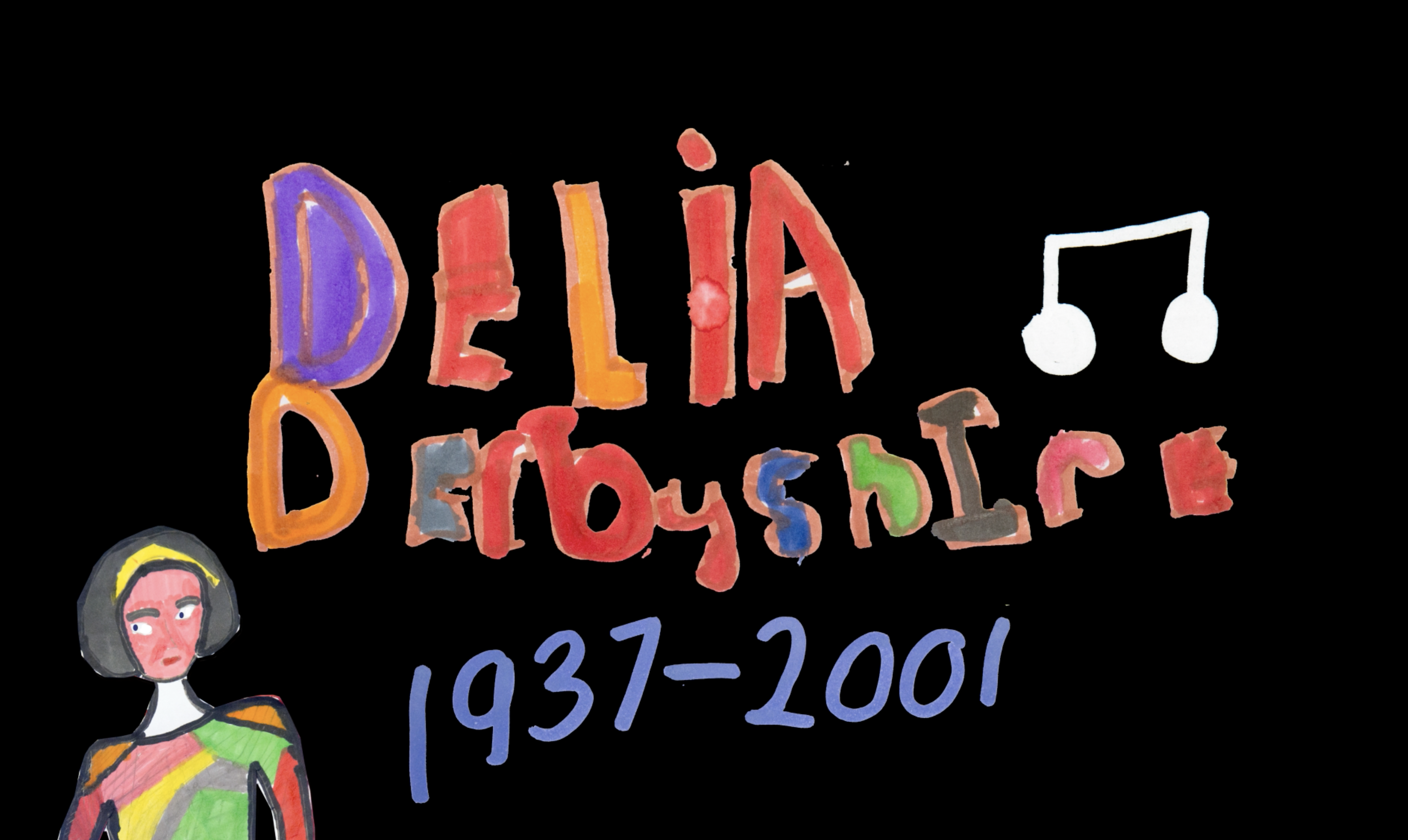 Welcome to our online content prepared for you for Delia Derbyshire Day 2022.
DD Day is on 23 NOVEMBER because this is the date Delia's revolutionary realisation of Ron Grainer's Dr Who theme first beamed into British living rooms (in 1963).
Lots of people are honouring Delia Derbyshire on their social media platforms, so do join us on there if that's your thing – links below. We have some Delia-n things to share as well as DD Day news.  
2022 has been a quieter year for us on the public front as we take stock from our 2021 programme around the theme of imagination and plan for our 2023 programme around the 60th anniversary of Doctor Who.
We are a growing organisation with no core funding so if you are able to, you can support our work via our donations page and have your own Delia-n merchandise from our shop.
DD Day news: Introducing a new DD Day trustee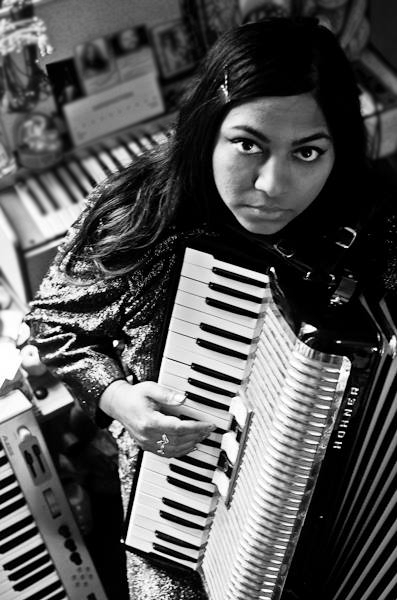 We are excited to welcome Sashwati Mira Sengupta to our board of trustees. Sashwati is a Creative Producer, Musician and Ethnomusicologist particularly focused on supporting Global Majority musicians and strengthening the local, national and international arts ecology. Sashwati has lots of experience, knowledge and passion to bring to DD Day.
"I am delighted to join the board of trustees for Delia Derbyshire Day which continues the work of Delia's creative legacy. I am very excited about the inspiration that Delia Derbyshire Day brings: from early creative development to professional artists.

In the past I've attended events and an online course during lockdown, so I've experienced the enjoyment and inclusivity that can be found in this inventive DIY approach to music-making.

Much of my music experience has been with Global Majority community and activist environments, so I look forward to bringing some of this towards supporting Delia Derbyshire Day's future plans."
Sharing: DD Day 2021 commissioned artists release soundtrack & booklet:
"Location Gilsland"

Musician/composer Suzy Mangion today releases her soundtrack to the short film 'Location: Gilsland' that she made with Katie Mason for their DD Day 2021 commission. 'Location: Gilsland' is an imaginary take, via BBC Programmes for Schools, on iconic electronic composer Delia Derbyshire's time living in a remote Cumbrian village after she left the BBC Radiophonic Workshop in 1973. The release contains all the music from the film, plus bonus material. 
Suzy has also produced a limited-edition 32-page A5 full-colour 'information booklet' featuring images from the film, together with information for the listener about Gilsland and Delia Derbyshire's time there. They have a Bandcamp page for the release.
Sharing:

Experimental electronic musician/artist Cosey Fanni Tutti has a new book called "Re-sisters" which includes her writing about Delia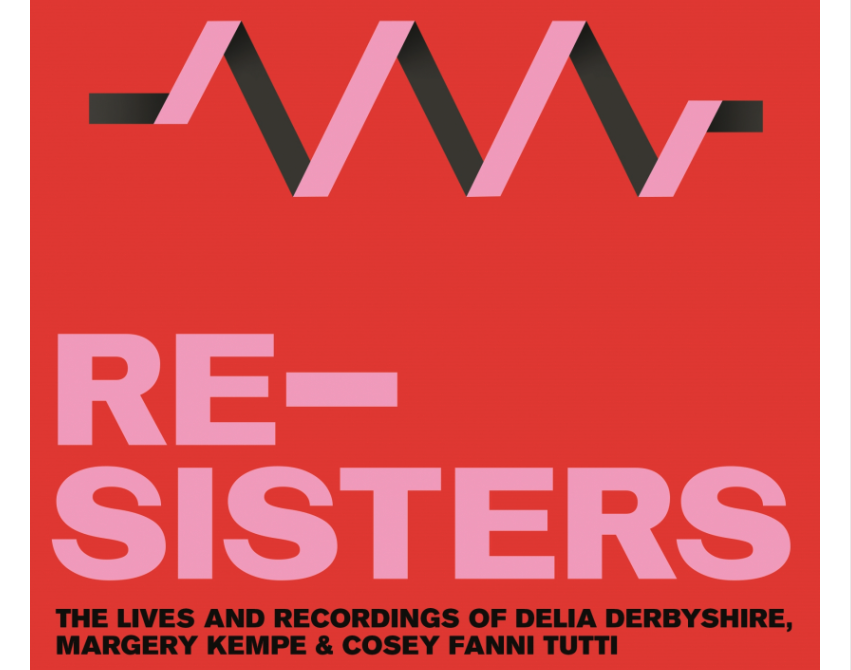 Cosey wrote the soundtrack to a film about Delia Derbyshire by Caroline Catz in 2018/19 – we did a video interview with them both for DD Day 2020 (it's on our youtube channel). While researching Delia's life, Cosey became immersed in Delia's story, uncovering parallels with her own life. At the same time Cosey was reading about Margery Kempe, the 15th century mystic visionary who wrote the first English language autobiography.
Re-sisters is described on Cosey's website as the story of three women consumed by their passion for life, a passion they expressed through music, art and lifestyle. They also challenged the societal and cultural norms of their time. The book is available in paperback, hardback and limited special edition and audiobook. Visit Cosey's website for more info
Sharing: "Composing Collections" – Uni of MCR students' musical responses to the Delia Derbyshire Archive
Earlier this year, fourteen student composers spent time researching the Delia Derbyshire Archive at the John Rylands Library in Manchester, in order to create new compositions inspired by Delia's life and creative practice. Working under the guidance of Joshua Brown, Lecturer in Composition at the University of Manchester, the composers' resulting pieces received their first performance in the Historic Reading Room at the John Rylands Library on 6 May 2022. We're delighted to be able to share these live recordings of the new compositions with you as part of Delia Derbyshire Day 2022.
Each piece is between 4-6 minutes long and the compositions include a diverse and exciting mix of works for electronics and choir, featuring the University of Manchester's Ad Solem ensemble. The first five pieces are presented here and we will be sharing the remaining compositions in the weeks ahead, so please watch this space for the full set!
Special thanks to all of the composers and the singers and conductors of Ad Solem, Joshua Brown, Guillaume Dujat, the John Rylands team and Cameron Naylor for the accompanying image. 
Amor Delia
Tom Julian
'Amor Dei' (1964) was one of the four 'Inventions for Radio' on which Delia Derbyshire collaborated with the dramatist, Barry Bermange.  It is widely considered to be one of her most successful compositions.  The title of this piece makes a playful reference to that composition!
The piece is an interactive work for choir and fixed media that aims to celebrate Delia Derbyshire's life and legacy as a pioneer of electronic music.  The fixed media accompaniment makes use of many of the sound materials and techniques which Delia Derbyshire used and developed herself, including her favourite instrument – the lampshade!
Certain Circles
Penelope Bekiari
Suffocating cities at an increasing pace.  Certain Circles explores the path from serenity to discontentment, the modern sonic landscape as a linear narration of interpersonal relationships.  Echoes of a city, texts, and computer generated sounds turn into mechanical sound gestures, struggling to fit into given spacetime.  Inspired by Delia Derbyshire's work for the four 'Inventions for Radio' (1964-1965), this piece seeks a conversation with the contemporary perspective of time and information.
Cloud as the Post-Internet Future
Keyi Xu
The piece is Keyi's reflection on the big data age and pays homage to Delia Derbyshire.  Influenced by the four 'Inventions for Radio' and Derbyshire's compositional concepts, young people's opinions and views on the future, which come from diverse backgrounds of families, are captured and expressed digitally.  Regardless of the age of radio or the internet, media decodes and encodes information, acting as a cloud for those who upload their experiences. In a sense, this is mathematical and elements of this could also be found in music in areas such as rhythm.  Young people are experiencing unprecedented levels of anxiety and confusion due to global issues.  At the same time, our feelings are being digitised in such a cloud which could impact us again.
"Good with an electronic sandwich." Delia Derbyshire made much of her music by splicing together tiny fragments of sound recorded on tape.  Playing these franken-tapes in a loop, one on top of the other, opened up a whole new world of electronic music in the 1960s.
60 years later, Loop Soup mimics these techniques through digital rather than acoustic means.  Snippets of sound are reversed, played at different speeds, or simply cut short in order to build up musical loops.  The result is a rhythmical journey that celebrates Delia's ability to make music from any kind of sound.
When The Sirens Sounded…
Daniel Brennan
Delia Derbyshire was born in Coventry in May 1937 and spent some of her childhood with family in Preston due to the Blitz.  Inspired by the sounds of 1940s Coventry and Preston that she would have experienced, When The Sirens Sounded… pays homage to Derbyshire's earliest years and memories and evokes the feelings of life in wartime Britain that would inspire and appear in her music for years to come. 
The piece is scored for choir and off-stage soprano saxophone and is based on two famous melodies from each of the two cities in which Derbyshire lived during the Second World War, the Coventry Carol and Home, Lads, Home.  Both pieces of music have been heavily manipulated; nevertheless, the former looks to echo the fear and uncertainty that Britons felt during the years of the Blitz, whilst the latter aims to explore the more peaceful and solitary side of life that children would have experienced during their evacuation to the countryside.
That's it from us for Delia Derbyshire Day 2022.
Thank you everyone for sharing your Delia inspired new work with us.
Join us on your social media channel(s) if you are into that – click the icons at bottom of this page.
Thank you and 'til 2023.